SoulCollage Facilitator Training - November 21 - 24, 2019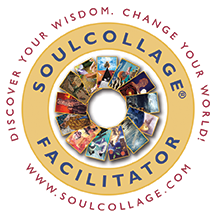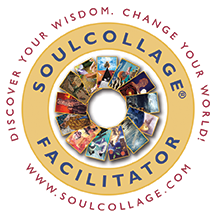 SoulCollage Facilitator Training - November 21 - 24, 2019
The Call
Do you feel called to share this experience, this powerful tool with others? The SoulCollage® Facilitator Training is for anyone who wants to facilitate SoulCollage® for self-discovery in groups and with individuals. You don't need any qualifications to take the SoulCollage® Training, just a desire to share this experience. SoulCollage® complements many other healing/self-understanding modalities.
The primary focus of a SoulCollage® Training is to teach participants to be SoulCollage® Facilitators, so this is not a SoulCollage® retreat or workshop, even though in both settings a participant may experience deep personal process. We expect that you are taking the Training because SoulCollage® has been meaningful to you in your own process, and you are eager to share SoulCollage®. There will be time for making cards.
After completing the Training, participants receive a certificate of completion conferring the right to use the name "SoulCollage®" in the title of their groups or workshops and to call themselves "SoulCollage® Facilitators."
Prerequisites
This four-day SoulCollage® Facilitator Training is required in order to call yourself a SoulCollage® Facilitator and your groups SoulCollage® Groups. These requirement must be completed before attending a Training:
Read SoulCollage® Evolving by Seena Frost
Read the Principles of SoulCollage®
Read SoulCollage® FAQs.
Listen to Seena Frost's two basic CDs (Introduction to SoulCollage® and Facilitating SoulCollage® in Groups) - Both are also available for purchase and digital download at the iTunes store.
Make several cards for your own deck in three of the suits (one card in the Companions Suit is sufficient). We want you to have a working knowledge of the SoulCollage® process, its structure of suits, and its Principles.
Experience SoulCollage®! Mariabruna Sirabella, SoulCollage® Trainer, has said that making cards without reading them is like preparing a delicious meal and not eating it. We would like you to have enjoyed your meal by Using the "I Am One Who..." exercise with your cards yourself.
Take a local workshop if you can find one.
If you can't find a local SoulCollage® Introductory workshop, you can take a recorded video course which will give you a sense of the deep potential of the SoulCollage® process in community and also give you some valuable basic information. There are two "Fundamentals of SoulCollage®" courses to choose from online:
The Fundamentals of SoulCollage® with Mariabruna Sirabella
The Fundamentals of SoulCollage® with Kat Kirby
In signing up for this Training, you agree to complete these prerequisites. Your Trainer and your Training colleagues will appreciate that you have completed the basics before you come. On the rare occasions when people come unprepared, they get less out of the experience.
What the SoulCollage® Facilitator Training Covers
How to facilitate SoulCollage® card-making, including ways to support self-esteem and avoid competition and self-criticism.
How to implement a therapeutic structure which both protects and encourages self-discovery.
Ways to adapt the process to different individual issues and different populations.
Demonstration of how to access intuition with SoulCollage® cards.
Discussion about how to use the Soulcollage.com section of the website for Facilitators to access resources for their SoulCollage® Facilitating with clients.
Help in envisioning a plan for facilitating SoulCollage® that fits your own passions, intentions, and competencies.
Ethical pitfalls and challenges that might arise when one is working with individuals and groups using the powerful spiritual and personal images on SoulCollage® cards.
After you complete the SoulCollage® Training you will have
Gained a deeper understanding of how to use SoulCollage® for yourself and others
Learned how to prepare for a workshop
Learned how to create the safe and sacred space needed to engage with the self in this way
A deeper understanding of SoulCollage® readings and how to teach others to do them
Learned how to promote your workshops
Discovered the plethora of tools and support from SoulCollage, Inc.
Received a certificate of completion and have the honor to call yourself a trained SoulCollage® Facilitator
SoulCollage® originally was designed and evolved as an adult activity. Unless you are a licensed clinician or teacher working with children in schools or are under the direct supervision of teachers working within schools, SoulCollage® Facilitators are advised not to work with collage and emotional expression with children who are not their own children.
To register for the Training, select a payment option below, fill out the pop-out form and make your payment.
Then, click on this link to register for your room and board options at Mosswood Hollow